Pentha Sea Beach
---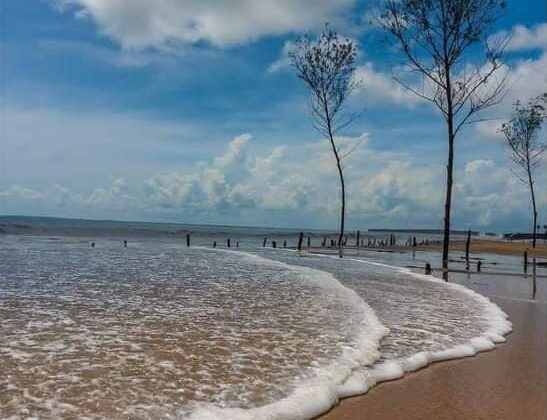 ---
Pentha Sea Beach, Kendrapara
From Rajnagar, we needed to take a few circuitous roads that regarded in no way finishing till we crossed them all. After 15 to twenty kilometers, we ought to get to the village of Pentha.Its excessive soil barricade. Once we reached the pinnacle of it, what my eyes ought to see turned into some thing my coronary heart took time to feel. The barricade turned into jogging parallel to the shore of Bay of Bengal. A huge sandy seaside `some distance from the madding crowd'! Waves coming crashing at the shore! For numerous kilometers, there has been none however the easy huge sea seaside. Of course, pink crabs and DOLPHINS have been in plenty.
An hour there, and then, while the solar set, we left the seaside with all reluctance. Wish it have been a traveller vacation spot with centers for an evening stay!
Pentha is a Village in Rajnagar-Tehsil in Kendrapara District of Odisha. It is positioned forty nine KM in the direction of East from District head quarters Kendrapara. one hundred twenty five KM from State capital Bhubaneswar
Pentha is surrounded with the aid of using Rajkanika Tehsil in the direction of North , Aul Tehsil in the direction of west , Chandabali Tehsil in the direction of North , Pattamundai Tehsil in the direction of west .
Pattamundai , Paradip , Kendrapara , Jajapur are the close to with the aid of using Cities to Pentha.
Read More
BEST TIME TO VISIT: Winter (Oct-mar).
Parking Fee: 10rs/vehicle/hr. Rs.30 for car
Travel Option : Train, Bus, Taxi
Nearest Railway Station: Paradip 78.8km
Nearest Airport:Bhubaneswar(134km)
Nearest Bus Stop :Junapangara 8.7km
Nearest Town : Rajnagar(10 to 12km)
Nearest Market Place : Rajnagar
Trip Type: Everytype friends, and own circle of relatives
WHAT TO EXPECT INSIDE :
Around 3km lengthy beach.
Nice environment with non violent vicinity.
Very nicely COMMUNICATION system.
A lot of crabs, purple crabs , tiny crabs On the shore.
A ideal aggregate of sun, sand and sea.
Mangroves and pine trees .
The roaring waves hitting the shore of Bay of Bengal.
Infinite water and golden sandy beach.
Crystal clean water, the tress and the stunning purple crabs.
A lengthy round 5km lengthy forest.
Spacious parking vicinity for vehicles.
NEAREST PLACES TO VISIT : Bhitarakanika country wide park, Gahirmatha , Rajkanika palace, Aul palace etc…
How to Reach Pentha Sea Beach, Kendrapara
Pentha Sea Beach Nearest Airpport is Bhubaneswar , Pentha Sea Beach Nearest Bus stand is Rajnagar & Pentha Sea Beach Nearest Railway station is cuttack
Why is Kendrapara famous?